Challenge
To communicate a fantastic new CSR initiative across the EMEA region, designed to maximise employees' charitable donations. The scheme meant that for every donation made by an EMEA employee to a charity or NGO (from a pre-selected list), SAP would support the employee by doubling their donations by up to 200 Euros per year.
The challenge for SAP was to communicate this new initiative in an engaging and inspiring way, as well as maximise the number of employees that would feel supported by SAP and motivated to give more to those causes they feel passionate about.
Solution
Sermelo helped SAP by developing and implementing an entire communications campaign that would inspire employees to give more to charity.
An engaging name and consistent messaging
The first step was to establish a name for the initiative and develop consistent messaging that could be applied to every form of communication. The name developed had to be clear, inspiring and self-explanatory.
The next step was to develop the internal brand. We created a logo that would be instantly recognizable to employees: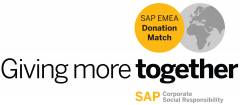 We then carefully chose imagery to represent the campaign that would convey the following:
Generosity

Collaboration

Inspiration

Passion towards job creation

Supporting of underserved, young, talented people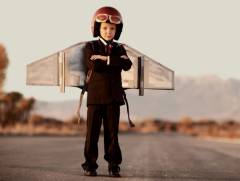 Deliverables
Part of the campaign involved bringing into line the 16 existing communication materials with our new look and feel. To each output we integrated our defined messaging so that every piece of collateral was fully aligned.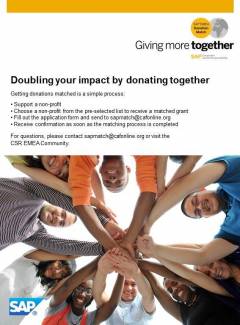 From an employee engagement perspective, it was vital that we engaged with all employees, from directors and managers to the people out in the field. As such, we decided to make every form of communication bespoke, so that everyone within SAP felt included and empowered to act.
All of the messaging materials were collated to form part of a toolkit that could sit on the SAP intranet. This ranged from specific advice to regional managers on how to communicate the campaign, to posters that could be printed and used around the office: